Last updated: 27th July 2022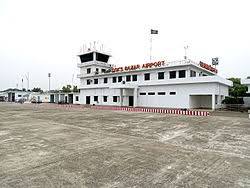 Cox's Bazar Airport, Cox's Bazar

Brief History Of Cox's Bazar Airport
Services Contact Development Schedule

Cox's Bazar Airport started its journey as a domestic airport in 1956,. Due to the damage of the airport during liberation war in 1971, Cox's Bazar Airport was re-opened as a domestic airport since the end of 1971. This airport is situated on a total of 941 acres of land. Cox's Bazar Airport is managed by the Civil Aviation Authority of Bangladesh.

The airport is located 1.5 kilometer from Cox's Bazar city and 396km from Dhaka.

The following 04 (four) airlines operators are operating their passenger flights from and to Cox's Bazar Airport.
Biman Bangladesh Airlines Ltd.
Novo air Ltd.
Us Bangla Airlines Ltd.
Regent Airways Ltd.
And the following 05 (five) Cargo operators are operating their flights from and to Cox's Bazar Airport.
Sky Capital Airlines Ltd.
Bismillah Airlines Ltd.
True Aviation Ltd
Hello Air Ltd.
Easy air Ltd.
General Information

ICAO ID

VGCB

IATA CODE

CXB

Latitude

21o27′07"N

Longitude

091o57′50"E

TWR FREQ

129.5MHz, 128.5MHz

NDB

396KHz, Ident : CB

Services/Facilities For The Honorable Passengers
Brief History Contact Development Schedule
Car parking:
Car parking facility is available at the airport. Respectable passengers can park their vehicles safely
Drinking Water
Pure drinking water is available for the passengers.
VIP/CIP Lounge:
VIP/CIP Lounges are available for the VIP/CIP Passengers.
Associating Facility:
Ramp and wheel chair facilities are available for the disable persons.
Wi-Fi:
Free Wi-Fi service is available to for the passengers.
Contact
Brief History Services Development Schedule
Airport

Airport Manager, Cox's Bazar, Bangladesh.
Cell : 01894909500
Telephone: +880341-52353
Fax : +880341-64479
Email : apmcox@caab.gov.bd

Airlines Office

Biman Bangladesh Airlines:
Airport Office:
Mobile- 01777775527(Station Manager)

City Office:
Hotel Upol, Cox's Bazar
Cell: 01777775526,01715054908

Novoair Ltd.:
Airport Office:
Cell: 01755656604 (Station Manager)

City Office:
Hotel Sea Palace Ltd, Front Side Market(1st floor),
Kolatoli Road, Cox's Bazar, Bangladesh.
Phone +88034163142, +889666722224 | Ext-5146

US-Bangla Airways:
Airport Office:
Cell01777777872(Station Manager)

City Office:
Hotel Kollol Complex, Laboni Beach road
Cell: 01777777841-842

Regent Airways:
Airport Office:
Mobile-01730358810 (Station Manager)

City Office:
Hotel Kollol Complex, Laboni Beach Road,
Mobile-01730358876


Development
Brief History Services Contact Schedule

Recently Completed Development Works:
Increased the runway length from 6,775 feet to 9,000 feet
Raised the runway 125 to 150 feet wide with PCN.
On Going Development Works


Future Development Works
To promote Cox's Bazar Airport at International Airport, a project called Cox's Bazar Airport Development Project is in progress. The following works are being carried out under the project:-
Increase the runway length from 9,000 feet to 10,000 feet.
Establishment of Airfield Ground Lighting System
Purchase Fire Fighting Vehicle
ILS, DVOR, DME, FIDS, PA system etc.
Construction of new Terminal Building.
Schedule
Brief History Services Contact Development
* Click the following links for schedule, ticket booking etc.
---
Disclaimer: CAAB is not liable for any contents of the linked web pages. The linked websites are their own property. CAAB linked the page(s) only to make easy browsing for the general people/users.

---