Last updated: 28th May 2022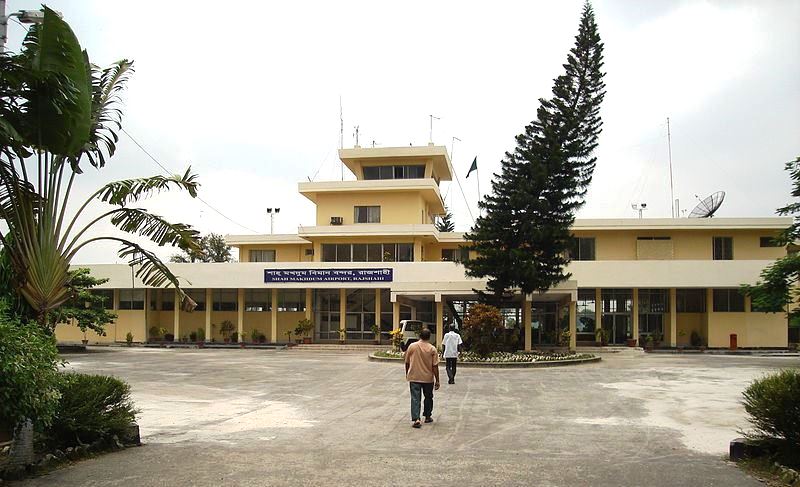 Shah Makhdum Airport, Rajshahi.
Brief History Of Shah Makhdum Airport
Services Contact Development Schedule
Shah Makhdum Airport is a Domestic Airport at Situated on the Western side of the country. It is about 10 km North of Rajshahi city and beside the Rajshahi-Nowgon highway. Now two Passenger flights ( Biman Bangladesh Airlines and US-Bangla Airlines and Two Aviation academy) are operating in this Airport . Another airline Novo Air will operate very soon. Two Aviation Academy (Pilot training schools) are running here. They have six/ seven training Aircraft that are operating from this Airport.

Besides this domestic cargo flights are also operating to and from the different destinations at Shah Makhdum Airport.
General Information
ICAO ID
VGRJ
IATA CODE
RJH
Latitude
242619.39N
Longitude
0883658.56E
TWR FREQ
128.3 MHz
DVOR
114.6 MHz
NDB
228 KHz
Services/Facilities For The Honorable Passengers
Brief History Contact Development Schedule
Air Conditioning waiting Lounge.
Free Wi-Fi facilities.
Canteen Facilities.
Given flight information by PA system.
Separate smoking zone and prayer room.
Supply of cold and hot water as required.

Contact
Brief History Services Development Schedule
Airport

Airport Manager, Shah Makhdum Airport, Rajshahi.
Phone: +880 2 47800053 (Off)
Cell: +880 1708167303, +880 1894909500
e-mail: apmrajshahi@caab.gov.bd

Airlines Office

Biman Bangladesh Airlines:
Office: +880 721 774838
District Manager: +880 1777775536
Station Manager: +880 1777775537

US Bangla
Cell: +880 1777777850, +880 1777777851
Station Manager: +880 1777777875

Development
Brief History Services Contact Schedule

Recently Completed Development Works
Construction of Luxurious Rest house.
Approach lighting system
Up-gradation of Runway lighting system.
Planning to make it International Airport because Rajshahi is a Divisional as well as educational city.

Schedule
Brief History Services Contact Development
* Click the following links for schedule, ticket booking etc.